'Black Panther' star Chadwick Boseman dies aged 43 after four-year battle with cancer
Black Panther star Chadwick Boseman has died at age 43 after a four-year battle with colon cancer
His family confirmed his passing in a statement on social media Friday revealing the actor was diagnosed with stage III cancer in 2016,The star was reported to be dating Taylor Simone Ledward in 2019 and the couple was last seen in public together in February, but their marriage was never reported.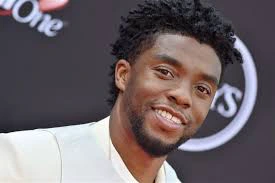 Several of The Black Panthers hit films were between 2016 and 2020 were filmed during and between countless surgeries and chemotherapy, his family and close relatives revealed.
Black Panther star Chadwick has died after a private four-year battle with colon cancer, his family said in a statement on Friday. He was 43 years old.
'A true fighter, The movie star persevered through it all, and brought us many of the films we have come to love so much and adore.
The movie star passed away at his home in the Los Angeles area, U.S with his wife and family by his side. They did not make the exact time of his passing known to public when he died.
'It is with deep sympathy and grief that we confirm the passing of the movie star. Chadwick was diagnosed with stage III colon cancer in 2016, and battled with it these last 4 years as it progressed to stage IV,' the family said.
The family and close relatives revealed many of The movie star's recent films, including Marshall, Da 5 Bloods, and August Wilson's Ma Rainey's Black Bottom, were filmed 'during and between many surgeries and chemotherapy sessions.'
Born in South Carolina, Chadwick graduated from Howard University and had small roles in television before his first star cast turn in 2013.
His family confirmed his passing in a statement on social media on Friday, saying the actor had been diagnosed with stage III cancer in 2016 and had progressed to stage IV at the time of his passing.
Chadwick Boseman is survived by his wife Taylor Simone Ledward and a parent and had no children. The couple was last seen together at the 69th NBA All-Star Game in Chicago in February. Their marriage was not publicly reported until the time of his death.
Chadwick Boseman's most memorable role was his 2018 performance as T'Challa, king and son of the fictional African kingdom of Wakanda and the crime fighter known as Black Panther, in the first major studio superhero movie featuring a predominantly African-American cast actors and other superstars.
The movie went on to become one of the highest-grossing movies of the year and was nominated for six Oscars, including best picture. It won three Academy Awards – in the best original score, best costume design and best production design categories.