Tuesday: Latest Transfer Done Deals, Updates On Havertz, Van De Beek, Ceballos, Messi And Koulibaly.
 Transfer window is a great chance for each team to improve their squad, some team use the chance to make profits while some use the chance to sell some of their unuseful players. Many big team used the chance to loan out their small team player to other team to gain more experience. Messi And Barcelona saga has been the top news in the transfer window.
1. Van De Beek to sign five years Contract.
Ajax are set to lose another key player to Manchester united after they agreed a £35 million for the Dutch Midfielder, Van De Beek, he has been reported that he has completed his medical, only for the premier league giant to announce his Deal.
2. Kia Havertz to Chelsea.
Taking is still going on between the both Party, according to rumor Chelsea may spend almost £90 million on the German international if they want to Signed him. Personally agreement is the problem but the transfer fee has been delaying him to complete his move to Chelsea.
3. Dani Ceballos may be back to Arsenal on a Loan Deal.
Dani Ceballos may soon be joining arsenal again on a season long loan. The Spanish midfielder was part of the squad that won the Fa cup early last month against Chelsea but misses out in the squad that beat Liverpool to the win the community shield because his loan spell has end.
He has proven to be of Arteta main man in the midfield after the Covid-19 Pandemic break. The Real Madrid Player has fallen in love with the North London team, but the gunner board are not ready to buy him completed.
4. Kalidou Koulibaly has reportedly Agreed Personal terms with Man City.
Pep Guardiola may decide to continue his spending on Defender even after signing the formal Chesea defender, Nathan Ake for a transfer fee of £41 million. According to report going around in race that the Senegalese defender has agreed to move to the premier league side, the only things that remain for them is to agreed a transfer fee with Napoli who believed will not accept anythings less than £80 million for the defender.
Their counterpart in Manchester, Manchester united also want to buy the defender to partner Harry Maguire.
5. Manchester United Want to Signs Dayot Upamecano.
Manchester united, are still looking for a perfect partner for the £80 million defender, who is also their captain, Harry Maguire and A Formal Arsenal target Dayot Upamecano has been on spot after having a decent season with the German side, after reaching the Championship League semifinal.
It will be little hard for the premier side to buy him because of his released clause of £42 million but can only be trigger by the end of next season.
6. Ozil offered £15million a year deal to leave Arsenal.
Many people believe that the 30 years old pla marker career at end, but he insisted on not giving up on the club and must see his contract run out in 2021 before he can leave Arsenal.
But a Saudi Arabian team, Al-Nassr has Offered him a £15millon a year to convince him to play for them. Arsenal are 100 percentage ready to release him at a free transfer to reduce their player wage as he only pocket £350,000 per week.
7. White to sign another Contract at Brighton.
Ben White Which spend last season on a long loan deal to Leeds and was part of the team that help Leeds to win promotion to the premier league.
Although at some point, Leeds was to sign him permanent but there are been report that he is ready to stay as Brighton and sign new contract.
8. Christian Eriksen May Soon Leave Inter Millan.
Inter Millan are ready to cut their tie with the playmaker within 7 month he joined the Seria A side, During his first seven month In the club he starts only in 8 league match, and was on bench during their defeated to Sevilla in the Europa League Final.
He has only scored once in the league and only have 2 assists to his name, many believed he has been a flop after he sign for Seria A team for a £16.9million in January.
9. Tension in the Spain Capital As Messi Failed To Train.
Lionel Messi has refused to train with the Catalan side on Monday, after he believe that is not more a Barcelona player as he set to leave the Barcelona team after almost 20 years with them.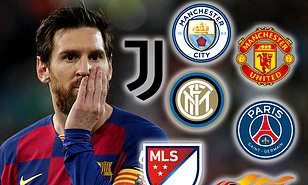 Man city has been the only team that is showing interest to take him out of the Barcelona, As Pep Guardiola is planing a Reunion with the Argentina Playmarker.
Man city are reportedly want to give Messi, A sum of £450 million within 5 years if he sign for the club.
Here are the transfer news across the Europe, followed me to get more updates and remember to like and comment, thank You.